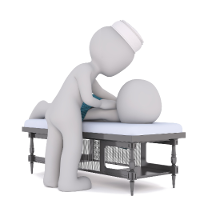 Profession of physiotherapy
Physiotherapy is a difficult profession.
After physio school, where you get guidance via teachers and internships, you are left alone. Thrown into the deep, expected to be an expert therapist and know exactly why all these people who come to you are in pain. You feel nervous, anxious and uncertain about what to do. This is what a lot of physiotherapists encounter in their daily lives. You come home feeling inadequate and worthless. There is no support and guidance to help you.
You want to help other people. That's why they have chosen this beautiful profession. But that's not always how it is. It's hard. It's difficult. It's very challenging. It's not well paid. Some people even quit.
This is not the way it should be. We are physiotherapists. We are awesome. We are the perfect healthcare professional to treat most MSK disorders and also help with the global burden of persistent pain and disability. We are in the perfect position to help the huge problems our societies encounter with metabolic syndromes, diabetes, cardiovascular disease and more.
There is a change going on in our profession. Away from the solely passive treatments, towards a more active and promoting health approach. With a focus on communication and exercise and therapeutic alliance and not throwing manual therapy completely away. With sound clinical reasoning, knowing when to use which approach when.
But we need more help. We need more help from within. More support and guidance from ourselves. We can help each other. In a similar way, we all started with internships, we can do this again with mentorships. Having a mentor profoundly increases your rate of improvement on your journey to being a successful therapist. This will help support the young physiotherapists, early in their careers and give the experienced therapists a way to share their knowledge and give back to our profession.
It's difficult to find a suitable mentor though. We have heard this problem from many physiotherapists and that's why we created a platform to help connect physiotherapists with each other. It's like a matching website for physio mentors and mentees. It's called: www.physio-mentors.com.
This can greatly enhance your learning and together you can learn more tailored to your individual problems and needs. This, in combination with the regular courses and online courses, will help you and our profession forward. And in the end, our patients will benefit from that and that's why all do it after all.
You can make an account for free and start searching for your
mentor today.